Calgary is the largest city in the province of Alberta which is located in Western Canada. It is nestled in the Foothills of Canada's Rocky Mountains and has many beautiful parks and rivers. The city is known for its friendly western hospitality and is a culturally diverse and thriving metropolis.

Downtown Calgary-Picture from www.visitcalgary.com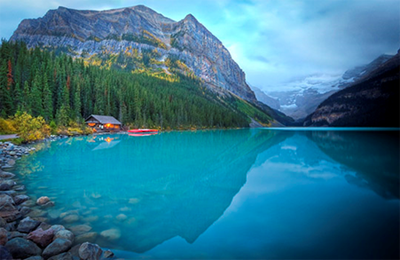 Banff Lake Louise-Picture from www.visitcalgary.com
Things to do
Calgary also prides itself as being a culturally diverse and vibrant city, with numerous festivals and events offered year-round. Our city is most well-known for the 10-day outdoor festival called the Calgary Stampede. The Stampede takes place in July and attracts tourists from around the world. This event contributes to the quality of life in Calgary and southern Alberta by promoting western heritage and values.
Getting Around
Transportation around Calgary is convenient and accessible. Calgary Transit provides public transportation throughout the city with buses and a light rail train system. Calgary also has more than 635 km of bicycle pathways throughout the city that allow for safe and easy transportation.
To find out more about the City of Calgary, visit www.visitcalgary.com